Why have young people in Japan stopped having sex?
" that in Japan the ubiquitous search for self-fulfillment is leading to a strange, doomed society. Guardian reporters, with their own prior commitments may not be able to read between their own lines, may not be able to connect these dots with others, may confuse correlates with causes, but at the end of the road lurks the demon-god Darwin with his deadly scythe, ready to pass judgement on the non-judgemental and whispering "This is the end toward which you slide when love is not directed outward toward something beyond oneself."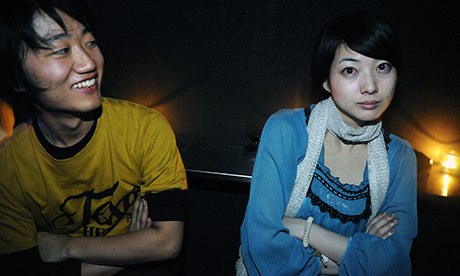 Too much trouble. Can't be bothered.
Comments here
The Guardian reports in "
The Mut, surrounded by those she nurtured, minus one.
IN THE CHILDHOOD OF TOF
there was celebrated today the Feast of St. Nicholas. TOF's maternal unit, the Mut, was of German extraction and followed many German customs even though she was several generations removed from the Rhineland. Among such customs as the putz, the tree, and the Christkindl, there was the day when, to Martin Luther's quondam distress, we put our shoes outside our bedroom door (or, later, hung our socks under the mantlepiece).
Into these unlikely vessels were placed overnight various treats and treasures, none of very large dimension. St. Nicholas, we were told, put them there, though kids even then were canny enough to suspect the old bishop had assistants. There was never any confusion that I can remember that "Santa Claus" was not simply an updated version of a real person. (Yes, Virginia.)
There was always the threat that inside the sock would be a lump of coal. We must have been good kids because I don't remember receiving an anthracite endowment.
...
continued from Chapter 7
.
Chapter 8. The
Allegory of the Storage Tank Demurrage
When Jack Heller returned to his office, he found a stack of reports waiting for him. One was the cost analysis of constructing a new storage tank. It gave dollar figures for construction materials, contractor and subcontractor costs, delays caused by construction, and so on.
Pump up the action!
What it did not give was any reason to suppose that the tank would solve the problem. He toggled his screen to intercom. "Molls, get a hold of Kelly in Purchasing. Tell him I'd like a breakdown of demurrage costs by week for the past year. I'd like it broken down by which chemical was involved, which carrier, which pumping station. I think that will do for now. I wouldn't mind knowing who was running the pump at the time, or what time of day it was; but those details might not be ready at hand."
"You got it boss," said Molly Colinvaux. "You think it might be clogged pumps or something like that?"
"I'm not going to guess ahead. I just want to know the size and shape of this problem."
...
continued from Chapter 6
.
Chapter 7. The
Allegory of the Check Sorting Process
"The Check Sorting Process...," said Jack.
"Yeah. You remember checks," the old curmudgeon said. "They were rectangular pieces of paper on which people promised, no foolin', that they had the money in the back to cover a payment."
Jack scowled. "I know what a check is."
"More like was. It's like printing with ink on hot lead. They were printing that way since Gutenberg, and in an instant it was all gone. An entire industry, a whole technology. Pfft." He snapped his fingers.
"The allegory...?" Jack prompted.
...
continued from Chapter 5
.
Chapter 6. The Journey of a Thousand Miles
"I was hoping," Jack said, "that we would get back to that before I had to get back to the office. So, tell me, Grumpy, how I can convince corporate to fund a new storage tank so I'll have enough capacity to off-load all the tank cars each month."
The old curmudgeon shook his head. "It's all that salad you eat. It goes to the head and turns it to cabbage. Don't assume that the solution is a bigger storage tank until you've walked a mile in the symptom-cause-remedy shoes."
Jack scowled. "Aren't you straining a metaphor there?"
"Best I could do. I told you, you have to start
from
the symptoms. The excessive demurrage."
...
continued from Chapter 4
.
Chapter 5. The Allegory of the Printing Plant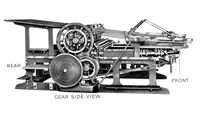 Old Number 9, a flatbed Miehle
You may think,
the old curmudgeon told Jack,
that the allegory of the printing plant involves a shrub who could not write cursive. But although such a tale has a certain whimsical charm to it, our allegory is set more prosaically in a place that printed technical journals. They produced serials for such organizations as IEEE, ACS, Audubon, et al. They printed
Physics Today, The Journal of Astronomy,
and numerous other such things. They employed degreed chemists as proofreaders. Many of the journals were printed on flatbed Miehles from hot lead type in 300-lb forms. The sheets would often hold sixteen or thirty-two pages on a single impression. There were web presses, of course, and perfectors, and even an offset web. These were the Old Days, and printing a magazine was no job for weenies, let me tell you.
...
continued from Chapter 3
.
Chapter 4. Three Kinds of Problems
"I would have thought," said Jack, "that there were thousands of different problems. I mean in my plant alone we have dozens of processes -- manufacturing of a score of chemicals, administration of personnel, facilities, maintenance... You name it. Last week alone we had a problem with reactor dumps on fluoropolymers, high costs on caustic, late deliveries from a supplier, a customer withholding payment, leaky valves on HF tank cars, a price increase on ammonia... That's already more than three problems."
The old curmudgeon pursed his lips. "I said three
kinds
of problems, but never mind for the moment. Do you know what a problem is?"
...continued from Chapter 2.
Chapter 3. Three Problems
"Wait a minute!" Jack promised. "You said there were only three things I needed to know -- symptom to cause to solution -- and now you tell me there are three
more
things I have to know?"
"You should be so lucky. I told you there were three things you had to know. I never said there were
only
three things. How stupid would
that
be? I told you, it's useful to organize ideas into threes, as long as you don't force them."
Jack sighed an tucked into his salad. The old man sure had a sour outlook on things.
Get Off My Lawn
his lapel button read. Yeah, a grumpy old man, for sure. And it wasn't like he had skin in the game, not as far as the storage tank problem went.
Of course, that might make him a perfect sounding board. He had no ego invested in anything that had been repeatedly booted around in interminable meetings. He remembered the 'first three' and suddenly realized that part of the trap lay in thinking about 'the storage tank problem' when the bigger storage tank was only a solution they had jumped to. The
problem
was that he was paying too much demurrage to the railroad.
"But I don't see how that helps me very much," he said when he had voiced that thought to his companion.