this article
on Hypatia of Alexandria posted on something called RationalWiki [sic]. As with all things internettingly wiki, the sourcing is rather scattergun with a marked preference for tertiary sources. Previously here there was a multi-part series on the life and context of Hypatia, beginning
here
.


[sic] rational ∩ wiki = Ø by the nature of wikish procedure. The results of desultory serial committee overrulings is not prima facie "rational." At best, it may be group-think.


But let us see what counts for reference among the rationals.
By sundry means was TOF made aware of
Catching up on tabs.
A schlock movie
A scholarly source,
albeit secondary
Over at
Armarium Magnum
, an atheist blogger yclept Tim O'Neill, who often takes his fellow atheists to task for being, well, stupid and ignorant about history,
returns to the movie Agora
.
Agora
was a movie that purported to tell the life and death of Hypatia of Alexandria, and which hit all the expected tropes. As Marie Dzielka pointed out in her seminal book (entitled, appropriately enough,
Hypatia of Alexandria
), the poor Neoplatonic philosopher has been roped in as a Symbol for whichever hobby horse the current age was riding. To Gibbon's generation, she symbolized Classicism and the fine old Greco-Roman civilization. To 19th centurians like Draper and White, she symbolized Science (vs. Religion). More recently, she has symbolized Woman (hear her roar). In each mythos, Hypatia was killed
because
she was a pagan,
because
she was a "scientist" [sic], or
because
she was a woman. Better yet, because she was a scientific pagan woman!
The Mean Streets of Old Alexandria: Part IX
The Sources
(
Listed below the fold
Collapse
)
The Sources are listed in their chronological order, starting with Synesius' Letters, which preceded the assassination of Hypatia, followed by Socrates Scholasticus and Philostorgius of Cappadocia, who were reasonably contemporary, with the proviso that Philostorgius exists only as a 10th century epitome (or digest).



Synesius.

The Letters.

Contemporary.

The primary source for Hypatia's teachings.

Some interpretation is required because Neoplatonists kept their teachings largely occult.

The letters do not cover the events in Alexandria leading up to her murder.




Socrates Scholasticus

.

Ecclesiastical History.

Contemporary.

He covers major events preceding and including the murder and provides a context.

He was a lawyer in Constantinople, well-informed about goings-on in the Church and Empire.

His informants on the character of Hypatia were likely Ammonias and Helladius, who would have known her before they fled after the Serapeum riots.

He is somewhat hostile to Cyril because of his treatment of the Novatians.




Philostorgius of Cappadocia

.

Ecclesiastical History [Contemporary] Exists only in an epitome compiled by Photius, Patriarch of Constantinople, centuries later.



Damascius

.

Life of Isidore.

Two generations later (5th, early 6th century).

This is a brief mention in passing and gives few details.

Studied in Alexandria and became the last master of the Athenian Academy before it was closed.

Deeply hostile to Christianity and suggests that Cyril directly engineered the murder.

Disagrees with Socrates on the place of the murder and gives no other details.

Original lost; reconstructed from fragments quoted by others.

Provides no thoughtful characterization, no description of her philosophy, no review of her writings.


John Malalas.

Chronographia

.

6th century.

Antioch.

Two sentences.

Info on her lifespan, fame, popularity.

His book is "a curious farrago of fact and fancy."


Hesychius of Miletus.

Onomatologus

.

6th century.

Short bio.

Original lost; survives as fragments quoted by others.

Contains info on titles of her works.

Reports she was married to Isidore, a fragment repeated in The Suda, but which is in error.

Isidore lived in the wrong generation.



John of Nikiu

.

Chronicle.

7th century.

Survives in Ethiopian translation of Arabic translation of Coptic original.

Local author (Lower Egypt) born during Arab invasion.

May have had access to now-lost records of Alexandrian church.

Clearly biased, pro-Cyril.

Follows John Malalas and a second, now lost work.

Only source that calls Hypatia a pagan and a witch.

Celebrates her murder but does not say that Cyril planned or knew.



The Suda.

10th century.

Byzantine encyclopedia.

Combines fragments of Heysichius and Damascius.

The encyclopedia is regarded as unreliable and repeats the story that Hypatia was married to Isidore.



Other accounts

are fully derivative of the above.



On-Line Resources
Listed in story order.




Tidbits of Neoplatonic philosophy Part III, with links to Parts I and II



The Historia Augusta

(a "mockumentary" or satire, not always reliable) on the Egyptian character


Ammianus Marcellinus, Roman Antiquities: On the assassination of Bishop George the Arian


Sozomen, Ecclesiastical History, Book V, ch. 7 and 10: On the assassination of Bishop George the Arian and the murder of the virgins of Heliopolis.


Rufinus of Aquileia: Ecclesiastical History, On the Destruction of the Serapeum


Socrates Scholasticus, Ecclesiastical History, Book V, ch. 16: On the Destruction of the Serapeum


Synesius, Letters.



Socrates Scholasticus, Ecclesiastical History, Book VII, ch. 13-15: account of Hypatia and the events leading up to her murder.



The Suda Lexicon

(Contains a fragment on Hypatia from Heysichius of Miletus and a longer fragment from Damascius' Life of Isidore.)


Photius.

Epitome of the Ecclesiastical History of Philostorgius, compiled by Photius, Patriarch of Constantinople, cf. Book VIII, ch. 9


John of Nikiu, Chronicles 84.87-103, On the death of Hypatia


Catholic Encyclopedia (1914), Cyril of Alexandria.



Evagrius Scholasticus, Ecclesiastical History, Book 2 ch. V and VIII, on the murder of bishop Proterius.



Continued from Part VIII
Continued from Part VII


The Mean Streets of Old Alexandria: Part VIII
The Aftermath

Scholasticus, writing in Constantinople at about the same time as the murder, tells us that Cyril and the whole Alexandrian church came under opprobrium because of this. Whose opprobrium? That of the opposing party of Orestes, for one – and that included most of the better classes in Alexandria. Outside of Alexandria, there was Antioch, always butting theological heads with Alexandria. And Constantinople, where Socrates was writing, so probably the imperial court as well. (The story probably never made it to the Latin West and the Roman Patriarch. In the aftermath of the Sack, the West had other worries than yet another Alexandrian riot.)
(
Read more...
Collapse
)
Continued from Part VI
The Mean Streets of Old Alexandria: Part VII
Murder Most Foul

AD 414/416. Rumors Fly in the Naked City. Why is Orestes so obstinate? Why will he not make kissy-face with Cyril? Rumors begin to circulate that Hypatia is the obstacle. It is her counsel that keeps the prefect at odds with the patriarch, and therefore perpetuates unrest in the City.
An account written two centuries later states that she was also rumored to be a witch and magician, but neither Socrates nor Damascius say this. Now her father had practiced magic, but there is no evidence that she herself did so. OTOH, she did teach astrology and divination as means of learning God's will. To the proletarians In the Lower City, the distinction may not have been clear.
(
Read more...
Collapse
)
Continued from Part V
The Mean Streets of Old Alexandria: Part VI
The Feud of Cyril and Orestes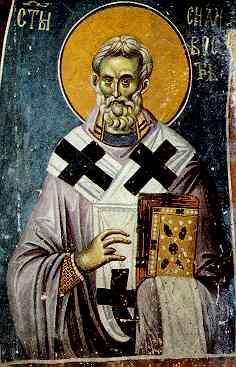 AD 412 A Fateful Year. Orestes becomes the new prefect of Egypt. He meets Hypatia (now aged 57) and they become friends. Perhaps, like other important officials, he attends some of her public seminars. In any case, he consults with her (as with other important citizens) on public questions. Later that same year (15 October) Theophilus dies. He had opposed the Novatians and pagans; tangled with John Chrysostom; but apparently got along with Hypatia. Street fighting rages for three days over his successor. In Alexandria, nothing, not even the election of a patriarch is done half-heartedly. One party (including Abundatius, military comes of Egypt) backs deacon Timothy. The "other party" supports Theophilus' nephew Cyril (left, who is backed by the rowdy Nitrian monks and probably the proletarians of the Lower City).
17 October: Cyril wins and is installed as 25th Pope of Alexandria, successor of St. Mark. He is very orthodox, but also very ambitious and wants to expand the scope of the patriarchate to include a civil role. He and Orestes begin to butt heads over each other's sphere of authority. (Augustine, who solved the problem, is a Western bishop writing in Latin, and might as well be on the Moon as far as the sophisticated Greeks are concerned.)
Synesius writes to congratulate Cyril, but with an admonishment to learn more restraint. (Letter 12) Cyril eventually does, sort of, but not until it is too late.
(
Read more...
Collapse
)
Continued from Part IV
The Mean Streets of Old Alexandria: Part V
After Graduation: The Calm Before the Storm
AD 395. The Augustus Theodosius dies. He has already appointed his two sons as Augusti to succeed him: Honorius in the West; Arcadius (left) in the East. No one realizes it quite yet; but the Empire will never again be united.
AD 395/6. Synesius returns home. The next year, he is part of the Pentapolitan embassy to Constantinople. While in the capital, he is baptized. (This does not mean conversion. Late baptism was common in those days.) But in AD 400 an earthquake strikes the capital and the embassy leaves. Synesius will later write of this:
"…if you remember the circumstances which I left the town. God shook the earth repeatedly during the day, and most men were on their faces in prayer: for the ground was shaking. As I thought at the time that the open sea would be safer than the land, I rushed straight to the harbor without speaking to anyone except Photius of blessed memory, but I was content simply to shout to him from afar, and to make signs with my hand that I was going away." (Letter 61)
(
Read more...
Collapse
)
Continued from Part II
The Mean Streets of Old Alexandria: Part III
The Deconstruction of the Serapeum
AD 392. When Hypatia, at 37, is already a well-known philosopher, and Synesius has just begun his studies in Alexandria, the temple of Serapis was destroyed. It begins thusly, according to Rufinus of Aquileia, a probable eye-witness to the riot,
"There was a certain basilica belonging to the public domain, very old and quite neglected. The Emperor Constantius, it was said, had given it to the bishops who were publicly espousing his perverted [Arian] faith. Because of the lack of maintenance over a long time, only the walls of the basilica were sound. [Theophilus] asked the Emperor for this basilica in order that since the numbers of the faithful were growing, so should the number of prayer-halls. When the bishop had received the basilica and wished to begin renovation, caverns were found hidden in this place, dug out of the ground. The caverns were more suited for robbers and crime than for ceremonies. Accordingly, the Gentiles, who saw that their hidden retreats of crime and caverns of shame were being uncovered, finding it intolerable that evils concealed for so many centuries and covered by darkness should be exposed, as though they had drunk a chalice of serpents, they all began to go mad and to rage openly. No longer with shouting and sedition, as was their wont, they strove to fight it out with force and with the sword. Both communities were staging frequent skirmishes in the broad public streets, and they met one another in open war. (Rufinus of Aquileia, Ecclesiastical History, Book X)
Perhaps this was the same church that George the Arian built. Some modern writers have shortened this account to "the pagans tired of the Christians ridiculing their ancient rites," without specifying what those ancient rites had been. Something about finding the skulls of babies did not sit right with the namby-pamby Christians.
Now our side [Christians], though superior by far in numbers, was less fierce because of the self-restraint of our religion. So, when large numbers of our people were wounded and some even killed outright, the Gentiles would flee to the temple [of Serapis] as to a citadel, taking with them a number of Christian captives. These, they forced to sacrifice at the burning altars and tortured and killed any who refused. Some they fixed to forked-shaped yokes, they broke the shins of others, and they cast them into caves which a long past age had built carefully to be receptacles for the blood of sacrifices and other impurities of the altar. They did these things by day, at first from fear, then in confidence and desperation, and being shut up within their temple they lived by rapine and plunder." (Rufinus of Aquileia, Ecclesiastical History, Book X)
(
Read more...
Collapse
)
Continued from Part I
The Mean Streets of Old Alexandria: Part II
When Hypatia Was a Little Girl
AD 355. Sometime around AD 355, one year after Augustine of Hippo was born, the well-known mathematician and astrologer, Theon of Alexandria, begat a daughter whom he named Hypatia. She was to mature into a mathematician and astrologer in her own right, but also a Neoplatonist philosopher of no small repute, one of a small band of female philosophers that graced that period of history in Alexandria.
At this point even the youngest of the persecuted Christians would be in her fifties. But their children, now grown to adulthood, might still harbor fear of their pagan neighbors based on tales their parents had told. After all, Diocletian's persecution had come out of the blue following a period of relative toleration.
(
Read more...
Collapse
)